Understanding recreational ecosystem service supply-demand mismatch and social groups' preferences: Implications for urban–rural planning
Recreation in nature provides multiple physical and mental health benefits to residents. People in cities, especially large ones, have high demand for natural landscape for recreational purposes. However, these natural landscapes often assemble in rural areas. Considering the mismatch of recreation service supply and demand will provide useful information for regional planning.
Researchers from South China Botanical Garden, Chinese Academy of Sciences and Institute of Agricultural Resources and Regional Planning, Chinese Academy of Agricultural Sciences, spatially quantified the recreation service supply and demand along urban-rural gradients in Beijing-Tianjin-Hebei region and revealed the heterogeneous preferences of different population groups.
The study found recreation service imbalance with higher demand (43%) in urban areas, the supply–demand balance (37%) in urban–rural fringes, and the supply sufficiency (64%) in rural areas were dominant. Divergent recreation service demand and preferences were identified across genders, ages, income, city scales, and household statuses. Females showed higher preferences for water, grassland, and agricultural landscapes than males; older groups showed higher preferences for natural landscapes but traveled less distance for recreation service; and high-income groups showed a lower frequency of visits but pursued longer travel distances. This study suggests that at both the regional-city and local-community levels, more adaptive and elaborate landscape planning and design should be implemented by integrating urban–rural heterogeneity and the specific population's preferences into recreation service management.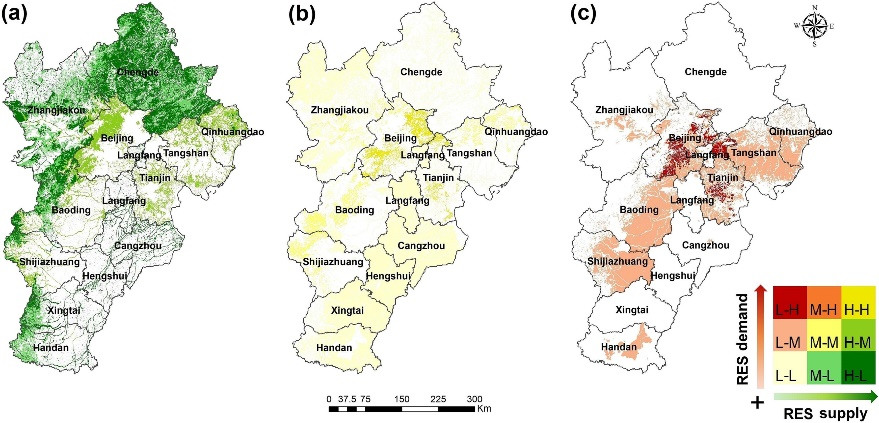 Fig. Spatial relationships of recreational ecosystem service (RES) supply–demand overlap in the Beijing-Tianjin-Hebei urban agglomeration region.